Real Estate Website Design
We Design Sites That Attract Prime Real Estate Leads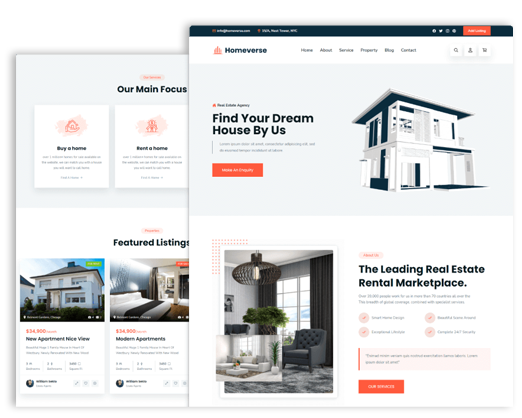 In today's digital age, a strong online presence is no longer a luxury but a necessity, especially in the competitive world of real estate. Whether you're an individual realtor or a real estate agency, your website serves as the first impression for potential clients. At Danzi Real Estate Media, we understand the significance of this first impression.
Introducing our specialized "Real Estate Website Design" services, tailored to resonate with both individual realtors and real estate agencies. Our designs are more than just visually appealing; they blend professionalism, functionality, and innovation. We craft websites that reflect your unique brand and voice and drive results.
Our expert team ensures that your site is user-friendly and optimized for search engines, placing you right where your potential clients are looking.
But our services don't stop at web design. We offer a holistic digital marketing approach, encompassing everything from SEO to social media and PPC campaigns. Our goal? To ensure your website doesn't just attract visitors but converts them into loyal clients.
So contact us today and together we can elevate your digital footprint. Together, let's create a website that sets you apart in the vast sea of real estate competitors, capturing the essence of your services and turning prospects into leads.
Features of Our Real Estate Website Design
Fuel Your Business Expansion with Targeted Content Crafted for Conversion

WEBSITE DESIGN & DEVELOPMENT
At Danzi Real Estate Media, we pride ourselves on delivering websites tailored to the unique needs of each client. This commitment ensures that every website we craft stands out as 100% distinctive. Our team of real estate web design specialists collaborates closely with clients, taking the time to understand their vision and brand identity. Through this collaborative approach, we develop a concept that truly embodies and amplifies their brand essence.
SEARCH ENGINE OPTIMIZATION
Elevate your online presence with Danzi Real Estate Media's integrated approach to web design and SEO. Our dedicated real estate web designers join forces with our seasoned SEO specialists, ensuring every facet of your website is primed for optimal search rankings. This synergy not only boosts your site's visibility but also drives a surge in leads and conversions, amplifying the success of your real estate endeavors.
Beyond crafting distinctive real estate web designs, Danzi Real Estate Media prioritizes adaptability. Our designs are meticulously optimized to ensure a seamless experience across all devices. Whether your visitors access your site via laptop, mobile, or desktop, they're greeted with effortless navigation and a flawless display, thanks to our responsive design approach.
Content creation is an integral facet of our web design services. Our content team crafts compelling, top-tier content designed to resonate with your audience and inspire them to engage with your call to action (CTA). Tailoring our approach to your brand's unique voice, our writers, with your direction, can seamlessly adapt to any desired style. Above all, we prioritize placing your brand's message at the forefront, ensuring it captures the essence of your real estate vision.
At Danzi Real Estate Media, we believe that a website's speed and reliability directly impact its revenue potential. That's why we offer hosting solutions that are not only swift and dependable but also fortified with top-tier security measures. With our commitment, you can be assured that your site remains accessible around the clock, boasting unparalleled uptime, rapid loading times, and robust security protocols.
Our skilled web designers harness the power of WordPress to craft bespoke, professional websites tailored to your real estate needs. Recognized for its versatility, WordPress is favored by both seasoned developers and those with limited technical expertise. Leveraging this platform, we offer our clients an optimal content management system (CMS) experience, ensuring effortless content handling and management.
Why Choose Danzi Real Estate Media As Your Web Design Agency
Crafting Your Brand's Unique Identity Through Custom Websites
Danzi Real Estate Media stands out in the realm of real estate web design, offering more than just websites. We craft a comprehensive digital marketing framework tailored to elevate your online presence, driving both visibility and revenue growth. Our approach encompasses a spectrum of strategies, from social media engagement to targeted pay-per-click campaigns, ensuring a robust online footprint.
Our clients are more than just customers; they're integral members of our team. We deeply value their insights, recognizing that their feedback is pivotal to the success of our digital campaigns. This collaborative ethos ensures that our strategies are finely tuned to meet their objectives.
Consistent communication is at the heart of our service. Our team of web design experts is always on hand, working closely with clients to transform their visions into reality. This commitment to open dialogue is complemented by our unwavering dedication to customer service excellence.
Staying ahead of the curve is crucial in the dynamic digital landscape. At Danzi Real Estate Media, we're constantly updating our knowledge, ensuring we're equipped with the latest trends and updates. This proactive approach empowers us to tackle challenges head-on, offering our clients innovative and advanced solutions.