Real Estate Brochures & Real Estate Marketing Materials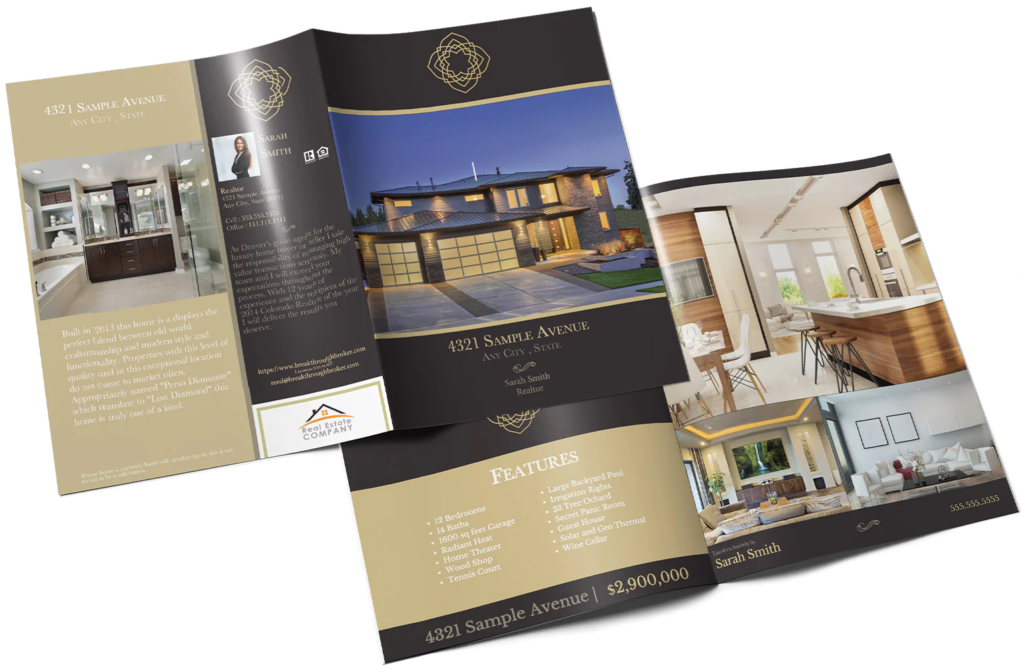 Welcome to Danzi Real Estate Media, your go-to solution for high-impact Real Estate Brochures and comprehensive Real Estate Marketing Materials. Our service is specially crafted for real estate agents, private homeowners, Airbnb rentals, and brokers keen on showcasing office or retail space in the most professional and enticing manner.
What sets our offerings apart from our competition is the fusion of unique professional design with supreme print quality, ensuring every piece not only captures but retains the attention of potential buyers. Our meticulous approach towards creating visually stunning and information-rich Real Estate Brochures translates into tangible interest and inquiries, bridging the gap between your listings and the prospective buyers or renters.
Your property deserves to be showcased in a manner as unique and high-quality as it is. With our custom Real Estate Brochures, you're not just listing a property, you're telling a compelling story that resonates with your target audience. Whether you are in the bustling heart of New York or the serene suburbs of New Jersey, our print marketing solutions are designed to deliver the impact you desire. Welcome to a service where quality, professionalism, and results are intertwined. Welcome to Danzi Real Estate Media.
Our Process for Creating the Perfect Custom Real Estate Brochure
In order to deliver the perfect real estate brochure design that resonates well with your objectives, we prioritize understanding your needs through a collaborative dialogue. This engaging process enables us to grasp the intended use and the targeted audience of the brochure, ensuring that the design is aligned seamlessly with your specific needs.
STEP 2 – THE CREATIVE PROCESS
Following our conversation, we transition into our creative design phase, donning our imaginative hats to craft a brochure that embodies your vision. Our objective transcends merely designing; we aspire to create a custom brochure design that resonates with you, evoking a sense of pride and satisfaction each time you present it to potential buyers or renters. 
We offer premium printing services, employing the highest quality materials and printing technology to bring your brochure to life. If you opt to utilize your brochure digitally, that's a fantastic choice too. We can deliver it in the digital format of your choice. Ownership rights are 100% yours, granting you the liberty to use the brochure in any manner you deem fit.
What's Included in Our Real Estate Brochures
Are you a real estate agent, an Airbnb owner, or a commercial real estate broker in pursuit of a luxurious property brochure that will not only amplify your marketing endeavors but also leave a lasting impression on your clientele, all while saving you a substantial amount of time? Our four-page real estate brochure is contemporary in design, fully customizable to your preferences, and impeccably suited to cater to the demands of your real estate business.
Front cover page (Listing photo, listing address, agent logo)
Inside left page (Listing photo collage)
Inside right (Property description, property stats, floor plan, listing photo)
Back cover page (Listing photo, agent headshot, agent contact info, agent logo)
 11″ x 17″ Half Fold Listing Brochure spread layout for print
PDF file of your brochure
Our Real Estate Brochure Pricing
Up to 25 Copies
Bi-Fold Design

Matte or Gloss Finish

24 Hour Turnaround

High-Quality Printing

Free Shipping

100% Satisfaction Guarantee
26 to 50 Copies
Bi-Fold Design

Matte or Gloss Finish

24 Hour Turnaround

High-Quality Printing

Free Shipping

100% Satisfaction Guarantee
51 to 100 Copies
Bi-Fold Design

Matte or Gloss Finish

24 Hour Turnaround

High-Quality Printing

Free Shipping

100% Satisfaction Guarantee
101 Copies to 250
Bi-Fold Design

Matte or Gloss Finish

24 Hour Turnaround

High-Quality Printing

Free Shipping

100% Satisfaction Guarantee
Please use this real estate brochure pricing structure for an approximate quote. These approximate costs are provided for your convenience so you may get a quick understanding of our pricing based on your needs. Please keep in mind that we are aware every one of our customer's situations and needs is different so we will do our best to work within your budget.
Real Estate Brochure – FAQ's
What types of real estate brochures do you offer?
We offer custom-designed bi-fold real estate brochures, tailored to showcase your property in a professional and engaging manner.
How are the prices for the brochures determined?
The prices vary based on the quantity of copies ordered, with a range of pricing options available to cater to different needs.
What is the turnaround time for brochure orders?
We offer a 24-hour design turnaround time for all brochure orders. Printing and delivery time can be anywhere from 5 to 10 business days. Express shipping is available.
Is there a satisfaction guarantee on the brochure orders?
Yes, we provide a 100% satisfaction guarantee to ensure you are happy with the final product.
Can I get a digital format of the brochure?
Absolutely! We provide a PDF file of your brochure for digital use.
How do I get started with my brochure order?
You can get in touch with us through the contact form on our website to discuss your needs and get started with your order.